Monday, January 31, 2005
How to Lose Friends and Alienate People with Email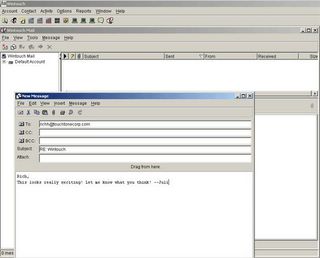 Open Loops has a funny, two-part, list about
how to make people angry with email
. Example below. Also check out Open Loops' examination of
America's Time Use Survey
.
Use a lot of sarcasm and off-beat humor in your email – It is hard to tell the difference between humor/sarcasm and sincerity without the facial expressions, body language, and tone. So yuk it up. This works especially well with people with whom you have little personal contact or who are extremely sensitive.
Use email to deliver bad news – It gets you out of that uncomfortable face-to-face situation when you have to give someone bad news. Who wants to hear all that crying anyway?
Send a flame message quickly – When letting someone have it, send your flame fast. Get it there while the feelings are still hot. You might not want to send it tomorrow.
posted by The Daily Pick at 4:23 PM
1 Comments:
Online
weight loss medicines
and programs are becoming very popular throughout the world with dietitians. However, not all programs of weight loss are created equal and some are even unnecessary.
Acomplia weight loss drug
is an anorexic against obesity drugs. It is a cannabinoid receptor antagonist CB1.
Acomplia Rimonabant
has been found to stop the food enough to help people lose weight, and could also help reduce the urge other unhealthy as smoking.
Florinef weight loss drug
is a corticosteroid used to help your body maintain the proper balance of water and minerals. Florinef pills can also be used to treat other conditions as determined by your doctor.
Hoodia weight loss medication
is pure weight loss supplement. Do not be fooled by counterfeit products. Hoodia Gordonii More Hoodia comes directly from South Africa. Not Mexico, China or other so-called Hoodia exporting countries. More sales Hoodia Gordonii directly help the South African Bushmen tribes.
Meridia weight loss drug
(sibutramine) is a weight loss aid, prescribed together with a larger plan of diet and exercise for people who need to lose 30 pounds or more, or for overweight people with additional factors risk (high cholesterol, hypertension).
---