Monday, February 14, 2005
Fainting Goats: All the Rage on the Net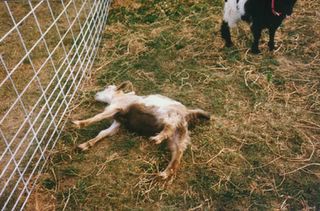 Don't worry. That goat's not dead. He's just fainted for a few seconds. Apparently there is this breed of goats who faint whenever they are surprised or frightened. Doesn't sound exactly like darwinism at its best, but it certainly is funny to watch.
A direct link to the video is
here
and
here
. They take a minute to load. Information about the goats is available from the
International Fainting Goat Association.

These videos were all over the major blogs last week. Very popular. Now, you're up to date on the latest rage.
posted by The Daily Pick at 7:00 AM
0 Comments:
---