Monday, May 30, 2005
Eleven Steps to a Better Brain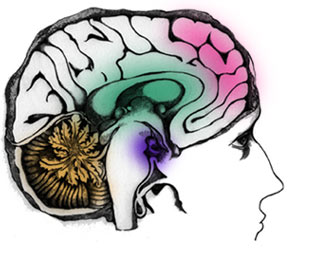 This article from
New Scientist.com
explores some of the cutting-edge techniques in improving brain power, as well as some of the old tried and true:
Eat Breakfast
The brain is best fuelled by a steady supply of glucose, and many studies have shown that skipping breakfast reduces people's performance at school and at work.
But it isn't simply a matter of getting some calories down. According to research published in 2003, kids breakfasting on fizzy drinks and sugary snacks performed at the level of an average 70-year-old in tests of memory and attention. Beans on toast is a far better combination, as Barbara Stewart from the University of Ulster, UK, discovered. Toast alone boosted children's scores on a variety of cognitive tests, but when the tests got tougher, the breakfast with the high-protein beans worked best. Beans are also a good source of fibre, and other research has shown a link between a high-fibre diet and improved cognition. If you can't stomach beans before midday, wholemeal toast with Marmite makes a great alternative. The yeast extract is packed with B vitamins, whose brain-boosting powers have been demonstrated in many studies.
posted by The Daily Pick at 9:16 AM
0 Comments:
---