Tuesday, August 16, 2005
Marketing Fiction: Creating Websites for Characters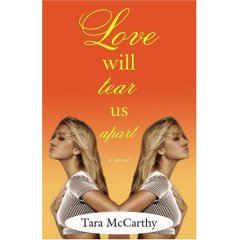 Tara McCarthy has a new book
Love Will Tear Us Apart
. It's about the
Sparks Sisters
, siamese twins who become pop stars. Her publisher Downtown Press has created a website about the sisters, as if they were a real life artists, complete with bios, blogs, and music.
Thanks Jeff Hoffman.
Also, check out
Vauhini Vara's excellent Wall Street Journal Article
about the use of the Net in marketing fiction books.
posted by The Daily Pick at 7:36 AM
1 Comments:
I found this one this morning...

http://www.jaynedennis.com/bio.html

which is a creation for Ellis's fictional wife in his reality-based novel.
---